WILLIE THE BUG-MAN and the stories he loves (MP3)
00008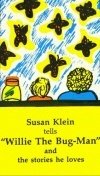 Instant Download After Purchase - MP3 Format

©1987, 1994, 2009 Susan Klein
While I was a Kindergarten-1st Grade teacher from 1977-1982, I told stories to the children all the time. As a solid basis for moral, language, and cultural education, STORY is king and queen. "Story" hits us where we live and the narrative form, well-crafted, is a luscious vehicle for all we need to know.
For their permission, blessings, and priceless contributions to the storytelling world, thanks to: Jackie Torrence for "Brer Rabbit and Brer Raccoon," and Diane Wolkstein for "The Magic Orange Tree." To Father Charles Rwakatare of Tanzania, special thanks for sharing "Frog and Centipede" with me and granting me permission.
…and a big hug to Willie Nicholson in thanks for letting me tell our story.
Selections 6-16 originally appeared on "Old Standby's." They are offered here as a bonus. Enjoy!
Willie the Bug-Man 7:37
Brer Rabbit and Brer Raccoon 10:48
The Magic Orange Tree 10:08
The Gunniwold 5:05
Frog and the Centipede 2:14
Little Red Hen 3:38
Pease Porridge0:10
The 3 Bears 5:16
Rumplestilskin 11:05
Two Little Monkeys 0:10
Little Red Riding Hood 4:18
Diddle Diddle Dumpling 0:08
Fox and Crow
This Little Piggy 0:16
3 Little Pigs 5:43
Hey Diddle Diddle 0:15