THROUGH A RUBY WINDOW – a Martha's Vineyard Childhood (MP3)
00006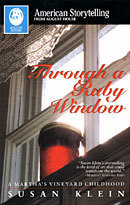 Instant Download After Purchase - MP3 Format

©1995, 2008 Susan Klein
This double disc was recorded live at the Wintertide Coffee House on Martha's Vineyard in 1993. The audience responded with oceans of warmth, and their individually-recognizable laughter will forever remain a delight.
These stories are about a less-complicated time – the 1950s and early '60s, a time when children had independence and freedom of movement unknown in many places today. Life was long on opportunities for exploration and discovery and short on parameters and confining rules. Hence, we participated daily in creative thinking and creative problem solving—resourcefulness training at its best.
The hardcover book by the same name is available below. Note: the audio is delivered in oral language. The book is in that other language – the written word. If the contrast of those languages tantalizes you, these will provide a sufficient comparative study.
Aunt Fanny 12:50
Flying Horses 7:11
Beach Party 20:36
Through a Ruby Window 12:34
Packages Home 8:07
On the Wing 29:22
A Place for Truth (Harry) 14:15